The second most popular island in this atoll is Terceira, named after being the third island discovered as well as the third largest island in the group(terceira literally means third). It is also known as Ilha Lilás or Lilac Island. Like São Miguel, this little peace of heaven is lush with green rolling hills and street-lined flowers (mostly hydrangeas). Like other islands, especially the larger ones, hiking, water sports and camping attracts many tourists to Terceira.
Terceira is also a location for Portuguese military bases and the only location for the Portuguese air force.
A History Lesson
Terceira had an important position in the Azorean archipelago's history. Most notable is the fact that this small locale was the last of the 9 islands to fall under Spain's rule during the "War of the Portuguese Succession" in the 16th century, rounding out the "Conquest of the Azores". It was also once home to the island's original capital city, Angra do Heroismo.
What to eat in Terceira?
Seafood and cattle-based products are popular here, as are fruit and pork. Like the other islands and Portuguese territories, food is based on the products that are readily available in the region. In Terceira, both goat and cow cheeses are very popular.
It's safe to say that the Portuguese enjoy their sweets, both on the mainland and in the Azores, and Terceira is no exception. Their most popular pastry, called Donas-Amelias, are spiced cupcakes that showcase honey as their main ingredient. These dense treats are showstoppers at holidays and parties, but can be found without an occasion necessary.
Cultural Fun Facts
Most of us have heard of the Spanish "Running Of The Bulls" but fewer know that Terceira does something similar. In this case, one bull (instead of many, like in Spain) is let into the street. And unlike in Spain, this bull is semi-secured by a rope that has been tied around its neck and held within the "playing field" by six to eight men. As the bull runs (and as these men run behind it) people weave in and out of the animal's path. Bullfighting in a ring is also popular.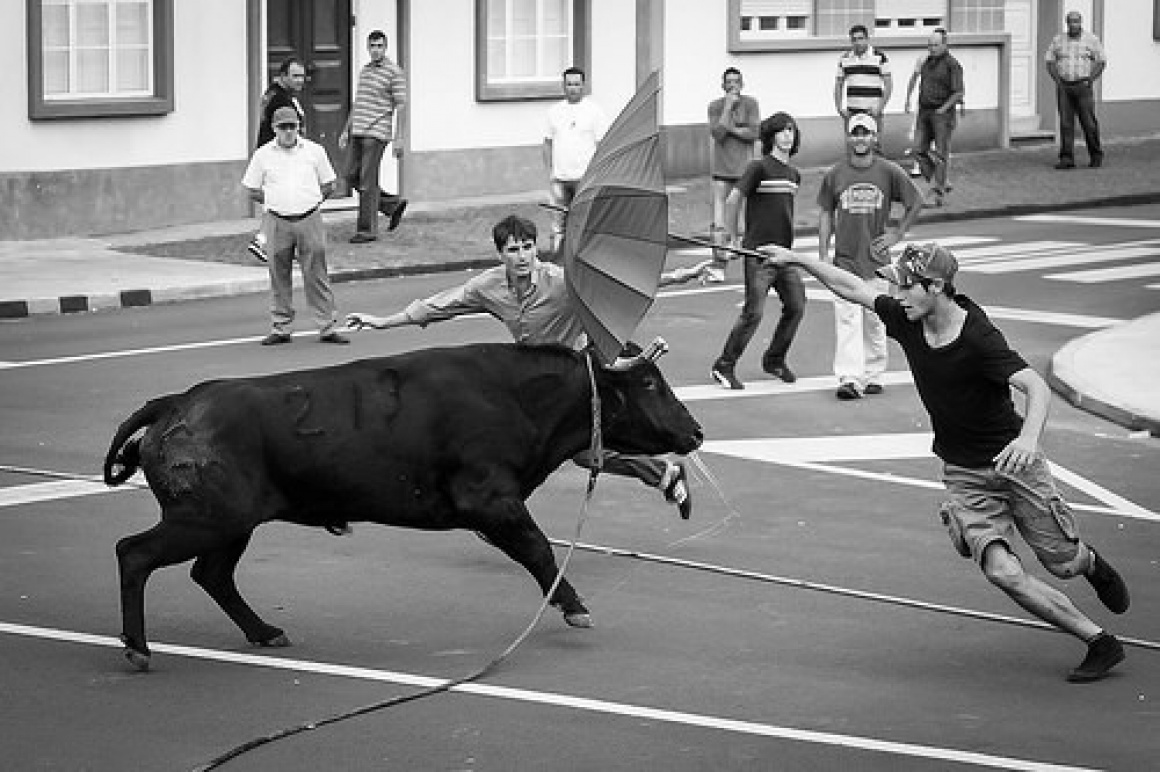 'Tourada a corda.jpg' - Attribution:
Daniel Wütschert
To find your ideal hotels in Azores and around the world, we've created Travelmyth, the unique hotel search engine with the widest selection of category filters. Whether you're looking for 5-star hotels in Sydney or hotels with water park in Kissimmee, Travelmyth is the ultimate hotel search tool for the sophisticated traveller.